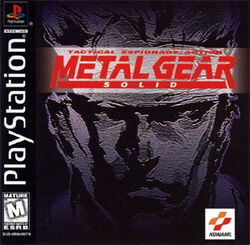 I beat Metal Gear Solid(PSX) yesterday and I have to say, best Playstation 1 game I have ever played.
I mean, yeah the gameplay was missing some stuff and the graphics aren't perfect, but when I was playing this game, I felt like I was watching a excellent movie, I mean, it truly felt cinematic..
and there was a lot twists in the plot too, who would have known that Master Miller was
Somewhat major spoilers:
or the fact that Liquid Snake and Solid Snake are related!
Of course, there is some other good stuff I have seen today..
In fact, at the beginning where you have to rescue the DARPA chief, there is a little secret that can be found in the air vents..
You know when you see Meryl doing sit-ups? Well there seems to be a little secret, where if you enter and exit out of the air-ducts, she will be doing different exercises, but if you have entered and exited out of the air ducts, you can see her working out in her panties(although it can't be seen too well, blame it on the polygons.) :sugoi:
and when I faced off against Psycho Mantis, I have to say. That is one of the most groundbreaking and unique boss battles I have ever seen, who knew that you had to "break the fourth wall" in order to beat Psycho Mantis?
I do have to agree a little with Otacon, Sniper Wolf did have some qualities that made her sexy..
Anyways, enough of that..
Discuss all things related to Metal Gear and Metal Gear Solid, whether it's Johnny Sasaki's problems with his digestive system to Revolver Ocelot's manliness to even how crappy of a character Raiden is.